Your brand demands attention! We've got that covered
When a blimp flies over town it gets serious media and public attention, so why don't we see more of them? Simple, because they're extremely expensive! Goodyear reports the cost of their Zeppelin NT airships will be $21 million per airship, not including the Helium to fill them. These airships also require large ground crews and expensive ground equipment and storage facilities. This translates to advertising programs that can cost a whopping $300,000 - $500,000 (or more) per month.
There is a cost effective alternative
Our thermal airship advertising is a surprisingly affordable alternative to expensive helium blimp programs. We make high visibility blimp advertising a real option for any business, regardless of size.
The Thermal Airship seen below is 135 feet long and the banner area on the side is 75 feet long x 25 feet tall. These thermal airships do not use helium, they fly with hot air just like a hot air balloon. Unlike normal hot air balloons, the thermal airship is propelled by a Rotax aircraft engine and can travel and maneuver at speeds up to 25 mph. They can be transported in a fully wrapped trailer to a desired location, inflated in less than an hour and fly around or linger in your targeted marketing area. More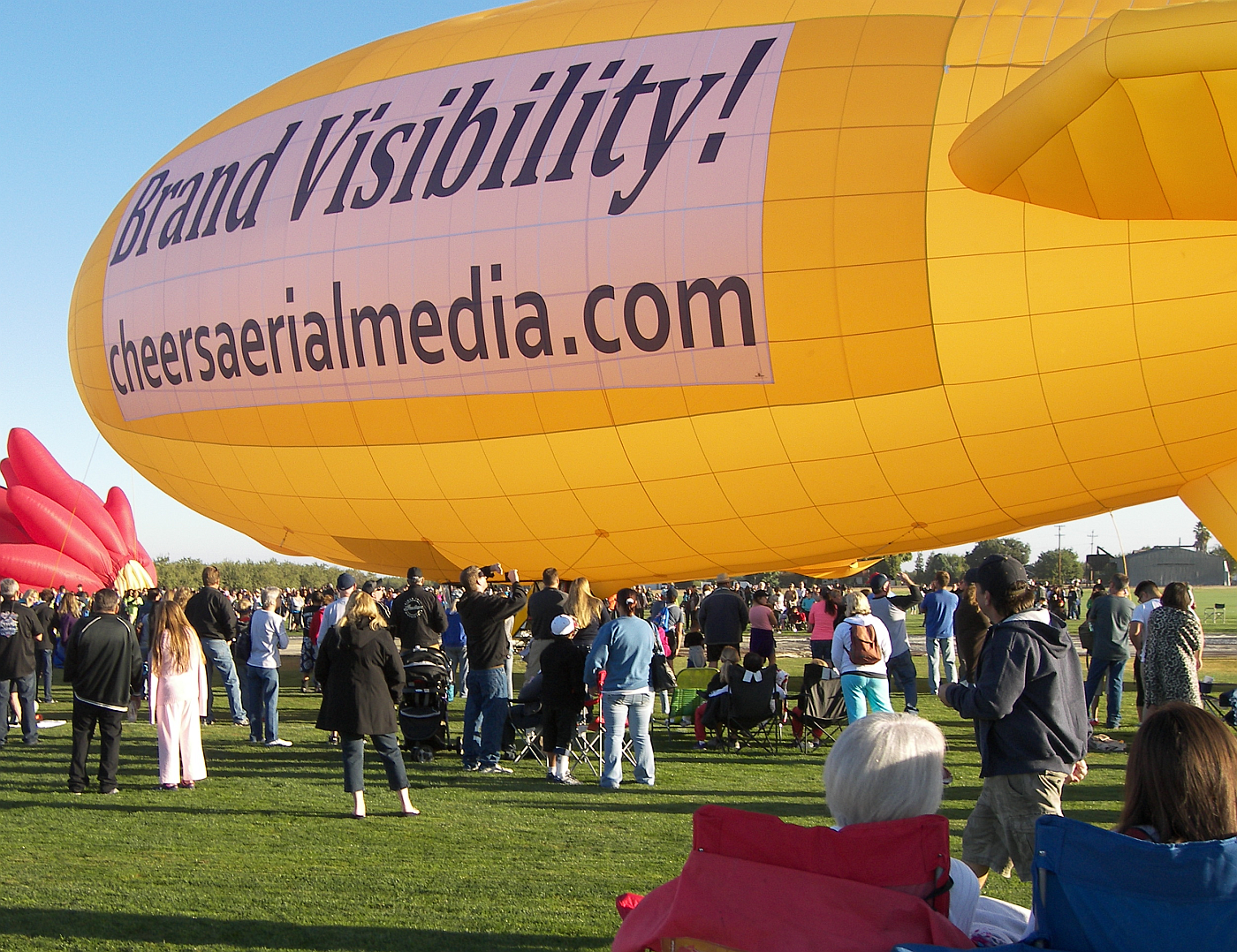 The picture above illustrates just how large the massive branding banners on
the side truly are. The picture below is perspective from nearly 1 mile away.
This platform is the ultimate for out-of-home brand visibility.
Cheers Aerial Media can very quickly banner this airship to suit your needs. Alternately, we can get a custom airship built emphasizing your brand colors and designs, then our team can operate and manage the program for you. In either case, Cheers Over California could set up a program for you with anywhere from a ten flights package to a full seasonal or even multi-year contract, at a fraction of the cost of helium blimp programs.
It's not just visibility! - Cheers Aerial Media provides "True Experiential" Aerial Advertising.
Cheers Aerial Media is a full service hot air balloon marketing company. We work with our clients to develop these programs from the ground up, including balloon design, chase vehicle design, setup of the online presence and acquisition of souvenirs for spectator giveaways. Additional support marketing items are also available including large inflatable shelters, cold air advertising balloons, etc.