Gefa-Flug AS 105 GD
Our Gefa-Flug thermal airship is a four seat design and is 135 ft long (nearly half of a football field). It has full aircraft communications capability including a Mode C transponder, which will allow it to operate in and around congested, tower controlled airspace such as Sacramento, Oakland, even Los Angeles.
The Envelope
The AS 105 GD envelope (inflated part) has a volume of 105,943 cu.ft. and is capable of carrying two specially fitted main banners which provide an advertising area of nearly 4000 square feet. Our envelope is also set up for rare "chin" banners up front and there are smaller advertising areas available on the envelope for sewn banners or artwork. The combined banner area is nearly 5000 square feet, more than SEVEN standard highway billboards. The use of banners allows a one day change out for special promotions. More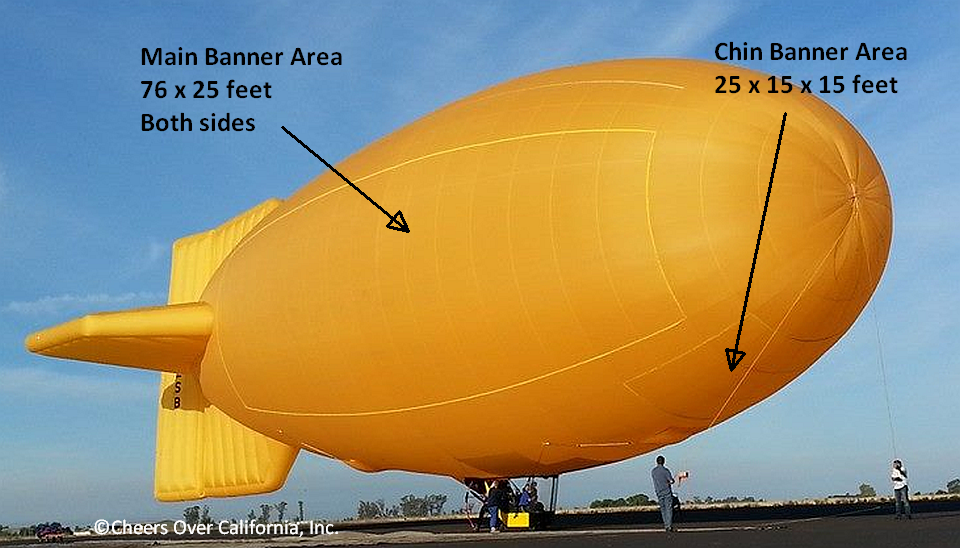 The picture above illustrates the standard banner positions available on our GEFA FLUG "Amelia Airship."
Banner Artwork
The artwork applied to our banners can be as simple as single color block lettering or we can arrange for full color edge to edge digital photo image printing.
Traditionally, Thermal Airship banners have been custom made at the airship factory in Germany, but Cheers Aerial Media can have these banners manufactured locally by our partner facilities. This can save greatly on program startup costs.
Our banners feature a special two sided, interlocking Velcro attachment system which creates a smooth appearance and a safe, airworthy connection.

Exclusive Banner Attachment System
Currently, our Thermal Airship is the only GEFA FLUG operating in the USA utilizing this specialized banner attachment system for commercial aerial advertising. Our two sided Velcro attachment offers the cleanest appearance and the most reliable method for attaching Thermal Airship banners.