Balloon Banner Services by Cheers Aerial Media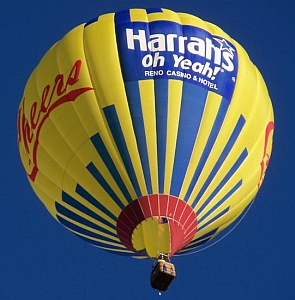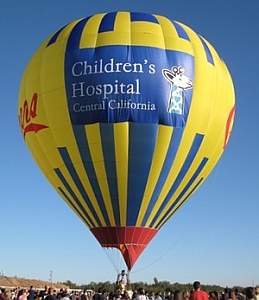 Elaborate custom designed balloons or special shape balloons are great, but nothing can "Fly Your Brand" quicker than a Custom Balloon Banner.
Custom manufactured banners can be attached to the balloon envelope, creating a mobile billboard rivaling the largest of highway billboards. Cheers Aerial Media can carry hot air balloon banners as large as 17ft tall x 40ft wide! The two banners pictured above are 17ft tall x 32ft wide and can be seen for miles when the balloon is in flight. These banners are attached using Velcro on all four sides and when the envelope is fully pressurized, they appear as if they are actually part of the balloon. Even larger banners are possible.
Though cost is relative to the intricacy of the design and type of construction, these banners are quite inexpensive to create. They also have the advantage that they can be attached and removed as needed for special events, which keeps operations costs down as well.
If you have a larger budget and want to really impress with your Brand advertising campaign, a fully custom designed standard shape balloon can be built. For more information about these custom balloon programs, CLICK HERE.
At Cheers Aerial Media our primary goals are to help make your brand more visible and memorable... and to make people happy to see you.
For more information about Cheers Aerial Media Festival Management please contact us at:
Cheers Aerial Media
PO Box 661932
Sacramento, CA 95866
Phone: +1 (916) 922 9253
Email: Cheers Aerial Media